News
Celebrate Easter at Allard
Celebrate Easter with your loved ones in a timeless Parisian bistro!
On Sunday April 9 and Monday April 10, share a timeless moment in Allard restaurant, framed by period tapestries, red banquettes and original woodwork…
Taste the delicious menu imagined by the Chef Laetitia Rouabah and her team, highlighting the traditional flavors of Easter and the most beautiful products of the season: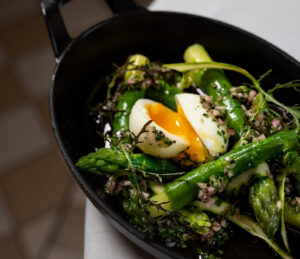 Fernande Allard amuse-bouche,
Green asparagus from Provence, soft-boiled egg and matured Comté,
Roasted leg of milk-fed lamb, vegetables from our farmers…
And for dessert, Wild strawberries in their natural way, Fontainebleau, which will conclude your meal in beauty.
Reserve your table now to celebrate Easter with family and friends.
Easter menu – Sunday 9 and Monday 10 April
90 € per person excluding drinks
View the menu
Book now
---